Other things in the Area
---
When you visit Kitebeach you can enjoy many activities other than kitesurfing, such as Horseback riding, SUP surfing, hiking, cycling, fishing, scuba diving, kayaking. At night, you can enjoy the Cabarete's nightlife – restaurants, dance clubs and live music.
Professional Teeth Whitening ONLY

 $100

My wife Eridania offers professional Teeth Whitening service. Comparing the rates in the US our Europe your savings will be around $400 to $600. This may pays for your Airfare to Cabarete.
I provide the same professional treatment than our dentist office. (I'm a dental assistant). My services takes a bit less than an hour, and giving you even better results than most in office treatments at you dentist. Your Satisfaction is my Guarantee!
Phone or WhatsApp Eridania: 1 809 209 7277 
Email: kitexcite@gmail.com
FB: Erika's Teeth Whitening Service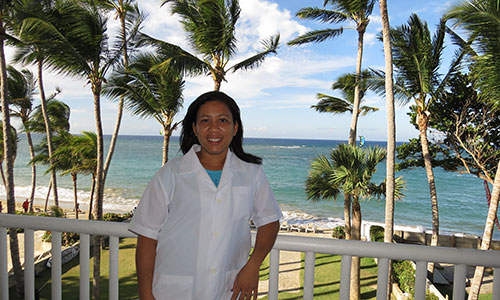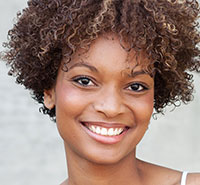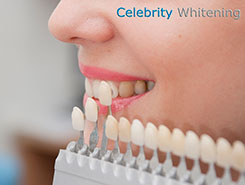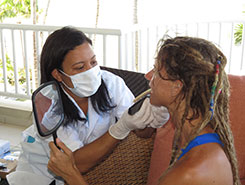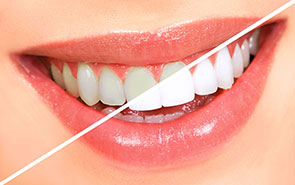 Surfing & SUP surfing
The North Coast is becoming increasingly popular for surfing and SUP due to its warm and safe surfing waters.
You'll find perfect paddle boarding conditions at Kitebeach Cabarete!
For Surf and Stand Up Paddle-boarding the best spot Cabarete has to offer is right on our door step. Here at Kitebeach, we have awesome waves on the reef, big swells on the outside the reef and flat water on the inside.
Considered to be the best place to surf in the Dominican Republic, Encuentro, is just 10 minutes from Cabarete. It's a fantastic spot for beginners, as well as for those looking for something much more challenging.
The local surfers are extremely friendly and will help give you the lay of the waves. The best time of year to surf is from mid-December to April. Surf lessons and board rental are available on site, and some surf schools are based in Cabarete Center.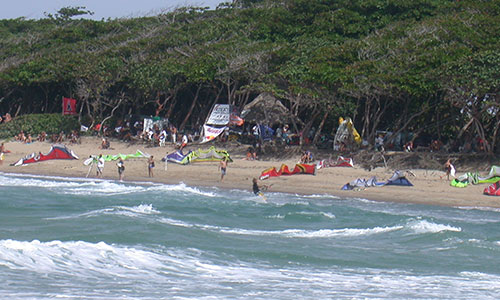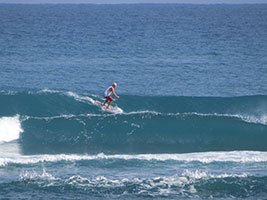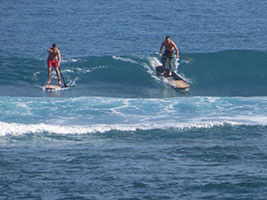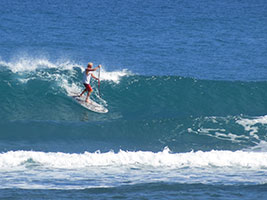 Canyoning
Somewhere between a gentle stroll in the park and an army obstacle course, canyoning is the adventure activity par excellence of the Dominican Republic. Climbers will love it; swimmers will love it; hikers will love it; eco-freaks will love it; we loved it, and so will you.
Rafting in Jarabacoa
Jarabacoa has a Tropical rain forest climate, with warm days and mild nights during the year. The valli is about 530 m above sea level. The Drive from our home base Kitebeach Cabarete is around 2.5 hour into the Central Mountains from Dominican Republic.
Adrenaline-pumping river rafting excursion from Jarabacoa, braving the gushing level-two rapids of the Yaque del Norte. After you learned about basic technique, safety instructions, you head out in a raft to experience the DR's longest river, passing along its lush riverbanks and canyons, toppling over cascades. Reservations for river rafting excursions should be made at least a day in advance. You can also request over sized inner tubes for some along the river's calmer side.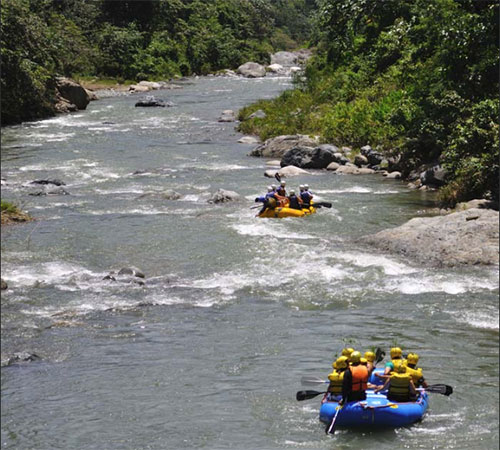 Mountainbiking
Cabarete is the homebase of World Famous "Iguana Mama," the Pioneers of adventure in the Dominican Republic. They are responsible for developing all of the routes that are still in use today. Their trips, which all start in Cabarete, have been voted "Best All New Sporting Adventre" by Outside Magazine, "Tour of the Month" by Bicycling Magazine, and nominated as "Top 25 Adventure Tours in the World" by National Geographic Adventure. Just out of Cabarete there are miles of dirt roads and endless mule trails making it mountain bike paradise.
The scenery is breathtaking and locals are so friendly that you may have a hard time getting very far in one day with the constant photo stops and invites for cafe! There is something for all riding levels, and a bike is the best way to see the true Dominican countryside.
Diving/Snorkling
For those of you who have ever dreamed of being weightless, of breathing heavily into something other than a telephone, and of wearing a cat suit in public and getting away with it, this sport might just be for you. Not a lot of people know this, but the Dominican Republic is one of the best places in the world to learn how to scuba dive… Clear turquoise waters in the Sosua area, just 15 minutes from Cabarete, cater to unique scuba diving & snorkeling experiences and an abundance of underwater life. Whether you desire gear rental, or diving certification, a number of shops located in the area will be more than happy to prepare you for the sea.
Cabarete Nightlife
Cabarete in the Dominican Republic been known for its fantastic kite surfing place and at night it becomes a happening beach strip.
There are restaurants along that beach with outdoor seating. These restaurants are a great place to catch dinner and watch the sunset. Once the sun goes down the restaurants turn into nightclubs, that offer late night drinking and dancing. All of these bars and nightclubs are right next to each other and literally on the beach. Great vibe, good drinks and not so expensive.
What else do you need?